November 19, 2010 :: Related project: 'State of Nature' by Simon Turley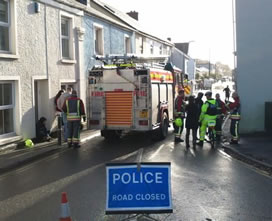 The resilient cast and crew of a play intended for the Eden Project this week are carrying on with their work despite being cut off by two landslides on Wednesday. After flash floods enveloped southern Cornwall, St Austell and Par and the surrounding area suffered terrible damage, not only to property; but in some cases threatening lives.
After a year of planning and four weeks' rehearsal, the cast and crew of the play 'State of Nature' by Simon Turley were looking forward to the opening night. Suddenly, it had to be cancelled as the Eden Project was hit by a momentous rainfall. Despite this, the team will not be deterred by the extreme weather conditions. Matching the resilience of the local inhabitants, who are already picking themselves up after this shock flooding, the members of the Theatrescience company have decided that the show must go on, despite all the challenges that lie ahead.