May 27, 2010 :: Related project: Theatrescience in Uganda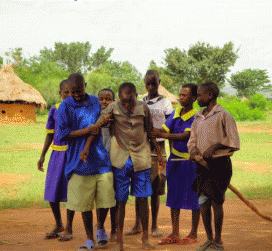 'Action Against Worms' began in October 2009, and concluded recently with a celebratory festival, where schoolchildren from the Busia district of Uganda shared their performances with hundreds of other young people, community members, politicians and local dignitaries. Over the past eight months directors Jeff Teare and Rebecca Gould have worked with children, teachers and Community Based Organisation (CBO) representatives, sharing ideas and techniques for using drama to communicate important public health messages.
May 20, 2010
Theatrescience is buzzing with writerly activity: three established playwrights have been commissioned to produce pieces for 'Not My Fault' , and this month sees Ben Musgrave – previous winner of the Bruntwood Playwriting Prize for 'Pretend You Have Big Buildings' – travelling to Uganda to research a new play inspired by the groundbreaking DART HIV clinical trial.