Article on Jeff Teare's new Lysistrata in The Hindu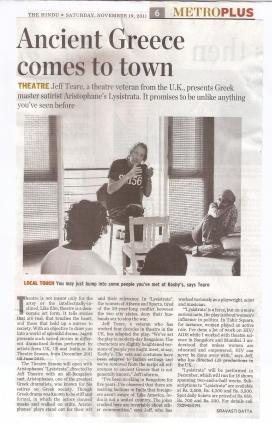 The Hindu (Saturday November 19 2011) featured an article on Jeff Teare's new production of Lysistrata with an all-Bangalore cast, which 'promises to be unlike anything you've seen before'. (To view the article full-size, click here )
The Ancient Greek satire, in which women withhold sex from their husbands in order to stop the war between Athens and Sparta, is a high-energy farce which retains its relevance to women's role in politics today.
Set in modern-day Bangalore, the characters are 'heightened versions of people you might meet at Koshy's', says Jeff.
The production runs for 2 1/2 weeks in December 2011 and opens Jagriti's new Theatre Season.