Bulgakov Moments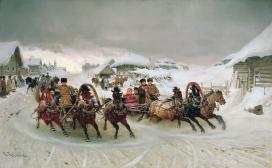 In this new project, in association with the Royal College of Physicians, Theatrescience are exploring those formative moments in which doctors feel the full impact of having to think and act decisively in a clinical crisis.
In 1916, newly qualified doctor Mikhail Bulgakov was sent to the Russian forest in the depths of winter to run a remote medical practice, with no colleagues to guide him. His early experiences led him to write A Country Doctor's Notebook, a vivid account of these first months and how it feels to be confronted with the raw, urgent reality of clinical practice after the safe and clean world of formal training and education.
"Into my mind came an involuntary recollection of the operating theatre in the maternity hospital. Gleaming electric lights in frosted-glass globes, a shining tiled floor, taps and instruments a-glitter everywhere. A junior registrar in a snow-white coat is manipulating the woman, surrounded by three intern assistants, probationers, and a crowd of students doing their practicals. Everything bright, well ordered and safe.

And there was I, all on my own, with a woman in agony on my hands and I was responsible for her. I had no idea, however, what I was supposed to do to help her. The fact that I was conducting an examination was of no value to me or to the woman; I understood absolutely nothing and could feel nothing of what was inside her.

It was time to make some sort of decision."
Although today's physicians may not often have to deal with blizzards, wolves and such total isolation, many early in their careers still experience that sense of sheer terror and loneliness at crisis moments. These are moments when there is no-one else who can take responsibility, for which no formal training can prepare you. Afterwards, doctors may not feel able to discuss what they have been through, even though it may be a key moment in shaping their future careers.
The project offers opportunities for physicians to explore, record and share share these moments, to explore and appreciate their significance, and to see them used to create an exciting new performance, as well as being archived for future reference and training.
Their stories, to be collected in one-to-one interviews with the Theatrescience team in spring 2013, will be integrated into a dramatic performance which we hope will give new insight into Bulgakov's experiences and those of the doctors who have followed him.
Performance development is still at an early stage and its precise form will be shaped by the stories we hear. It may take place at the Royal College of Physicians and could be structured like an OSCE (Objective Structured Clinical Examination). We will also develop the performance through workshops in late spring/summer 2013 which will delve deeper into the stories gathered in interviews.
Theatrescience has been running workshops bringing together scientists, clinicians and theatre makers for over ten years now. Its unique model is a highly effective way to explore and represent the human and societal impact of medical science, and to create inspiring and gripping drama. Past projects and productions in the UK, India and Uganda have dealt with issues relating to HIV, CFS/ME, Cholera, Bilharzia, Dementia, traditional medicine etc.
If you are a physician or medical professional at any stage of your career (including retired), and would be interested in contributing your own 'Bulgakov Moment' to the project, please contact us on .(JavaScript must be enabled to view this email address) before the end of April 2013. We will contact you to arrange an interview.