India in London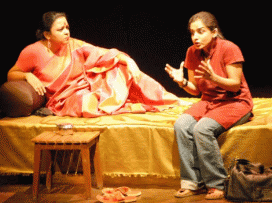 The Theatrescience India in London Festival took place 14th-18th July 2008. Two Indian theatre companies, The Creative Arts from Kolkata and Artistes' Repertory Company from Bangalore, along with scientists from the Indian Council of Medical Research and the National Centre for Biological Sciences, and writers from India and the UK, came together with Theatrescience to explore the ethics, emotions, and politics of new issues in biomedical science.
The festival followed the 8-day Theatrescience: Imagining the Future India event which took place in Bangalore in October 2007. This was an opportunity for cross-cultural interaction between Indian and UK theatre and science communities and resulted in the creation of four new plays. With the help of the Wellcome Trust, these plays were being brought to London.
With a packed programme of performances, readings, workshops and discussions, Theatrescience India in London used theatre to dramatise science, and science to enrich theatre. Through drama, it opened up debate about how biomedical science affects how we live, who we are, and what we might become.
The Indian companies involved were The Creative Arts from Kolkata, and Jagriti/ART from Bangalore.
The programme also included readings of Paul Sirett's Bad Blood Blues and Farhad Sorabjee's Idiot Wind, plus sold-out performances of The Invisible River by Gautam Raja and Crab Soup by Arthur Cardozo at the Lilian Baylis Studio, Sadlers Wells.
Project Videos
India in London ovierview video
An overview of the India in London festival which took place in London, 2008.
Project Reports
Theatrescience India in London Report
In July 2008, Imagining the Future III: Theatrescience India in London took place. This five-day event consisted of a number of workshops, performances, playreadings, and discussions which explored the political, emotional and personal implications of current developments in biomedical science.