'Bad Blood Blues' performed at the Museum of Life in Rio de Janeiro, Brazil.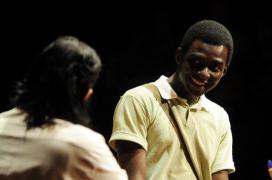 Paul Sirett's play 'Bad Blood Blues', which explores the ethical issues around HIV drug trials, has been performed in Portuguese for the first time at the Museum of Life in Rio de Janeiro, Brazil. Directed by Wanda Hamilton, the Brazilian production featured actors Paula Alexander (Claire) and Izak Dahora (Patrice).
Luisa Massarani, Director of The Museum of Life, first came across the play when extracts from it were performed at the 'Telling Stories' Conference in Bangalore, which Paul Sirett and the play's first director Jeff Teare, were both attending. 'Telling Stories' was the second Wellcome Trust International Public Engagement Workshop and was produced by Theatrescience Co-director Rebecca Gould, assisted by Dr Jessica Mordsley. The theme of the workshop was 'Why narrative matters in public engagement with science' - a theme illustrated by the continuing effectiveness of 'Bad Blood Blues'
'Bad Blood Blues' was originally commissioned by Rebecca while Associate Director at the Theatre Royal Plymouth and was part of their 'Theatre of Science' season which later grew into the project Theatrescience. 'Bad Blood Blues' was subsequently developed at Theatrescience's partner theatre, Jagriti Theatre in Bangalore, and it was here that Hemalatha Somsekhar of the Public Health Foundation of India started her journey with the play.
In 2008 the play was read publicly at the Soho Theatre in London, with Trudie Goodwin and Abdul Salis, and later in Bangalore at the Indian Council for Medical Research's Medical Ethics conference, with Sukhita
Aiyar and Pritham Kumar. These readings were directed by Jeff Teare, with ongoing scientific advice from Professor Anthony Pinching at Peninsula Medical School, Dr Peter Godfrey-Faussett at London School for Tropical Medicine, Nandini Kumar of the Indian Council for Medical Research, and Hemalatha Somsekhar of the Public Health Foundation.
The play received its first full production in London at the Theatre Royal Stratford East, opening on the 21st April 2009 with Martina Laird and Nathaniel Martello -White in the cast, and Ryan Romain directing. Since then, scenes from the play have been read at conferences in South Africa and Argentina. The play continues to create a buzz, this time in Rio.
Having seen the readings in Bangalore and London, and having been on the panel for both post show discussions, Hemalatha Somsekhar was lucky enough to also see the production in Brazil. She commented:
"It was an unusual but extremely interesting experience to watch Paul's play in an unfamiliar language. I've actually had the privilege of watching this play/reading thrice: first time in English in India, second time in UK, and now in Portuguese in Brazil! Quite a record I'm sure! I could make out from the audience's reactions during the play that they were enjoying it immensely and were very appreciative. Post-performance, the audience felt that it was an intriguing play and said that these are the kind of plays that they would like to have staged. Plays which make one think, question and react! A couple of students came up to me and wanted more details on this kind of activity and how they could get involved etc. The director of the play who had a very enthusiastic and bubbly personality and the two actors did an absolutely fantastic job. I was invited to go on stage and comment on the play. I touched upon figures related to rate of transmission from HIV infected mothers to babies during pregnancy and delivery, and during breast feeding. The ethical issues I raised, included use of placebo, whether it was ethical or unethical to use placebo in such clinical trials, standard of care, post-trial access, ethics committee review & their importance for international collaborative research. I stressed upon the fact that I wasn't there to give answers but to make the audience reflect. The director also interacted with the audience who expressed that they enjoyed the play and were very interested to hear the ethical issues highlighted. They said that they often hear about science in plays but a discussion on ethical issues in healthcare and research in plays was quite thought-provoking."
"Luisa Massarani, Director of the Museum of Life, who was instrumental in bringing the play to Brazil, said:
"The play is fantastic. Using high quality drama tools, it is very powerful in engaging the public in health research. A controversial issue such as clinical trials with human beings is not a regular subject raised in science museums (where the play is being performed in Brazil) and less in the context of Museum of Life, in which a significant number of people in the audience never had the opportunity for going to a theatre.We are going indeed to have other plays. Actually, plays are a key part of the activities we offer for our public."
Theatrescience look forward to the play's journey continuing in other countries and other languages.