'Extremely Brief and Violent' by Selma Dimitrijevic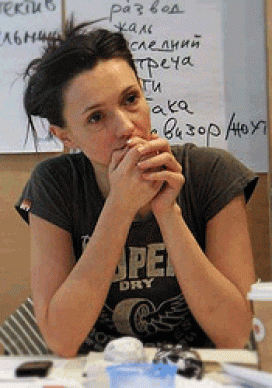 Commissioned under the 'Not My Fault' project, Selma's play portrays the painful dilemmas faced by a family as it deals with violence that could be 'in the blood'. The scientific genesis of this play was the possible link between monoamine oxidase A – the so-called "warrior gene" – and antisocial behaviour in males within specific communities, a case identified by New Scientist as exemplary of the 'complex tango between genes and environments'. It is intended for production in 2011.
Selma Dimitrijevic: Biography
Selma is a London based writer and director, and the Co-Artistic Director of Greyscale together with Lorne Campbell.
Her plays include 'Gods Are Fallen And All Safety Gone' (Oran Mor), 'Game Theory' (co-written with Pamela Carter, Traverse Theatre), 'Night Time' (Traverse Theatre), 'Broken' (Oran Mor), 'Re:Union' ( 7:84 Theatre) and 'A Prayer' (Greyscale).
Her directing work includes 'An Incident At The Border' by Kieran Lynn, 'Cyrano' by Edmond Rostand and 'Waterproof' by Andy Duffy (all Oran Mor), 'Ink' by various writers (Traverse), 'Tonight David Ireland Will Lecture, Dance and Box', (by Sandy Grierson and Lorne Campbell) and 'What Would Judas Do' by Stewart Lee (both for Greyscale)
As a translator, Selma has worked on plays and novels by Robert Holman, Enda Walsh, Irvine Welsh, James Kelman, Zadie Smith, Dave Eggers, Susan Sontag and Salman Rushdie.
In 2007, Selma was awarded the Scottish Arts Council New Writing Bursary and in 2008 and 2010 was awarded the Peggy Ramsay Bursary.
Selma is currently working on a new play 'Life Without'.